EltaMD® UV Elements
EltaMD UV Elements is a 100% physical sunscreen in a tinted, moisturizing base. It is gentle for even the most sensitive skin types, including post-procedure skin. Its chemical-free actives, zinc oxide and titanium dioxide, provide safe but sure sun protection. These mineral-based UV filters work with ultra-hydrating hyaluronic acid to protect and hydrate the skin. UV Elements has a universal tint that beautifully enhances most skin tones for a more youthful appearance.
EltaMD® UV Clear
Oil-free EltaMD UV Clear helps calm and protect sensitive skin types prone to discoloration and breakouts associated to acne and rosacea. It contains niacinamide (vitamin B3), hyaluronic acid and lactic acid, ingredients that promote the appearance of healthy-looking skin. Very lightweight and silky, it may be worn with makeup or alone. Choose from tinted and untinted formulas for use every day.
EltaMD® UV Sport
Have your fun in the sun—but play it safe. This sunscreen is great for swimmers, skiers, runners, golfers and other athletes – or for those who just love to be outdoors! UV Sport is water-resistant so it won't rinse off in water or drip into your eyes and sting when you sweat.
EltaMD® UV Physical
For oil-free sun protection with just a touch of color, our lightly tinted UV Physical is a healthy choice. This chemical-free mineral sunscreen has antioxidants to neutralize free radicals. Water-resistant UV Physical withstands water, humidity and perspiration.
EltaMD® UV Facial
Elegant and silky on your skin, this fluffy moisturizing sunscreen may be used every day or after facial treatments. Developed specifically for moderate to dry skin, it is beneficial for all skin types needing a moisture boost and UV protection. EltaMD UV Facial can be worn alone or under makeup.
EltaMD® Foaming Facial Cleanser
Give your skin a fresh start with EltaMD Foaming Facial Cleanser. A gentle enzyme and amino acid blend loosens makeup, oil and other impurities on the skin and in the pores. The thick, rich foam gently cleanses leaving your skin feeling clean and balanced.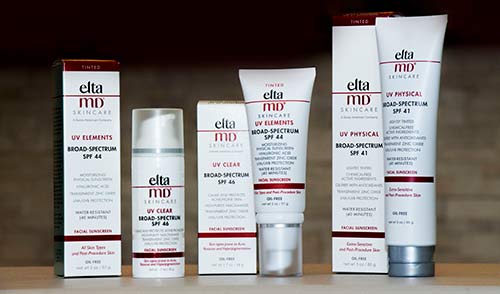 EltaMD®
For more than 25 years, EltaMD has developed wound healing, sunscreens and skincare products  that are widely used and recommended by physicians and other medical professionals in hospitals, burn centers, rehabilitation clinics, and long-term and short-term care centers. EltaMD applies that experience to create innovative products that help restore, protect and maintain healthy skin.